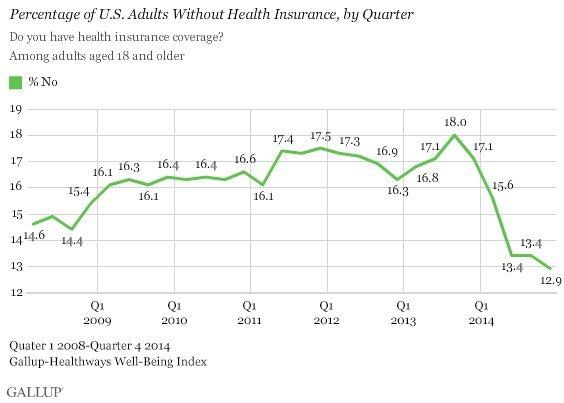 The Uninsured Rate Just Keeps Falling, New Survey Shows
: "The share of Americans without health insurance fell below 13 percent by the end of 2014, a rapid drop from just a year before and a clear sign that one of Obamacare's primary missions is succeeding, according to new data from the polling firm Gallup.
In the fourth quarter of last year, 12.9 percent of Americans were uninsured, a steep drop from 17.1 percent a year before. The change was driven mainly by increased coverage through the Affordable Care Act's health insurance exchanges and by the expansion of Medicaid access in more than half the country, the Gallup-Healthways Well-Being Index shows, based on more than 43,000 interviews conducted between Oct. 1 and Dec. 30."
'via Blog this'